Why track your sleep with us?
To find out how well you actually sleep, join our community data experiment. See what's really going on in your bed at night—and how your sleep compares to other people's in the city that never sleeps.
In order to participate in this experiment, you need to upgrade your browser first.
Sign in or register with WNYC.org and we'll bring you back here to join the crowd.
Stories
Teams
And the winner of the Clock Your Sleep team challenge is: Digital Detox! They upped their sleep average by just under 5 minutes per night over two weeks. Vice Squad and Rock Your Routine tied for second place, getting an extra 25 seconds of sleep per night during the challenge.
As of May 30th, 2014, Clock Your Sleep ends. WNYC thanks all the competitors and the 5,227 people who participated in this collective experiment in sleep tracking. Sleep well, everyone!
My team

1st
place
more

sleep since before the challenge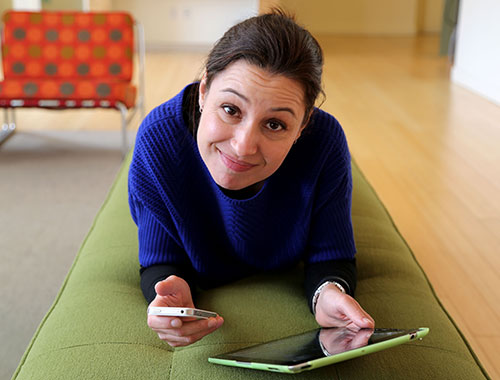 Digital Detox
Manoush Zomorodi, host of WNYC's New Tech City
No TV, iPhones or iPads for an hour before sleep
Check your devices at the bedroom door
Manoush is exhausted, and she blames Twitter and email for robbing her of 30-60 minutes of sleep. She looks at her tablet or phone and then goes to bed early, but often wakes up in the middle of the night. While the rest of her family is asleep, her phone and tablet keep her company--and keep her awake.
Can detoxing from technology get Manoush--and you--that extra hour?
Artificial light, and especially the blue light emitted by smartphones and tablets, can throw the body's biological clock out of whack by suppressing melatonin, the hormone that influences circadian rhythms. That's why researchers suggest cutting out the use of blue light devices near bedtime.
My team

1st
place (tie)
more

sleep since before the challenge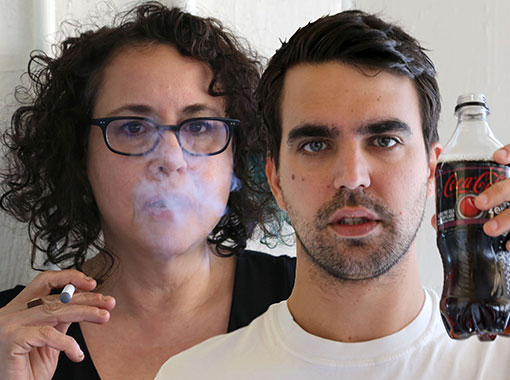 Vice Squad
Brooke Gladstone, managing editor and host of On the Media
PJ Vogt, associate producer of On The Media and co-host of TLDR
Exercise 3 times a week, 4-6 hours before bedtime
No caffeine, alcohol or nicotine within 4 hours of bedtime
Brooke and PJ both describe their sleep as terrible, and they often rely on sleeping pills to get to bed in the first place. But their habits could be to blame: smoking, booze, caffeine and lack of exercise are the enemies of rest. Can amping up your wellness routine lead to better sleep?
Sleep experts think so. They say regular exercise can help you sleep--as long as you don't do it within 3 hours of bedtime, because exercise can also make the body secrete cortisol, a stress hormone that activates the brain. As for vices, caffeine and nicotine are stimulants and alcohol can be, so avoid them within 4 hours of bedtime.
My team

1st
place (tie)
more

sleep since before the challenge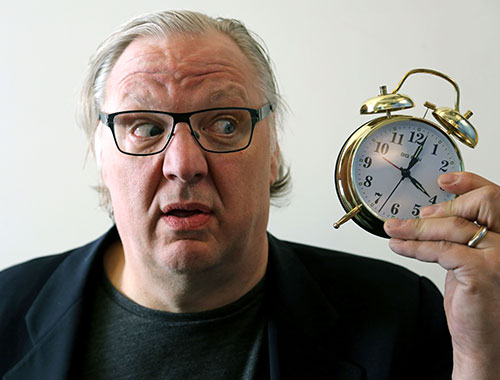 Rock Your Routine
John Hockenberry, host of WNYC's The Takeaway
Go to bed and wake up at the same time - no matter what day of the week it is
As host of a national morning show, John is up at 4:00 a.m. Monday through Friday and in bed by 8:00 p.m. He uses the weekends to catch up and recover from this brutal schedule, and is often too sleepy anyway to get much time with his family.
Can sticking to a routine get you more sleep and less fatigue?
Sleep researchers say consistency is key to a good night's rest. It might be tempting to stay up later on the weekends and sleep in, but doing so can shift your circadian clock. Meaning: come Monday, you feel less rested, not more.
Welcome!
You're almost ready to start clocking your sleep! We'd like a little more information before you get started. We're asking these questions so we can use aggregated, anonymized data from the whole experiment to explore how New Yorkers sleep. For example, we might say things like, "70% of participants actually sleep less on the weekends."
We won't share any of your information or data with anyone; it's all kept confidential, unless you choose to share your progress charts. And remember, this is a citizen data experiment, not a source of medical advice.
Built by: Marine Boudeau, Jeanne Brooks, Fiona Carswell, Paige Cowett, Schuyler Duveen, Mary Harris, Evan Hensleigh, John Keefe, Louise Ma, Valentina Powers, Karthik Ravindra, Jim Schachter, Kio Stark, Paula Szuchman, Noah Veltman, Jenny Ye, Bryan Young, Elizabeth Zagroba
With help from: Dr. Shelby Harris, Director of the Behavioral Sleep Medicine Program at Montefiore Medical Center and Dr. Carl Bazil Director of the Comprehensive Epilepsy Center and Sleep Center at Columbia University.
Thanks to Jawbone for their donation of Jawbone UPs to the Clock Your Sleep project.